We know employees crave continuous feedback but often don't receive it.
In fact, the Betterworks 2022 State of Performance Enablement report found that one-third of surveyed employees have two or fewer check-ins annually with a direct manager for coaching, feedback, and goal progression. Another 10% said they rarely or never receive this kind of feedback.
Providing feedback and conducting regular check-ins are important but insufficient. Such conversations won't be effective if employees don't understand how they connect to business goals and their career growth. "The takeaway here is that for most, the current processes and tools are not getting the job done," our report notes. "It's not surprising that only 39% of employees say current check-ins are working well for them."
Let's explore how continuous feedback differs from traditional feedback models, how a continuous feedback model can help your organization, and how you can implement one effectively.
What is continuous feedback?
Continuous feedback is the practice of sharing regular, constructive feedback at work through a series of ongoing and structured conversations between managers and their employees. Feedback can also take place between peers, but for the purposes of this article, the focus is on feedback between managers and their reports.
Continuous feedback includes regular check-in conversations and informal interactions, such as a chat in the hallway or praise delivered during a team meeting.
Managers use these conversations to address work quality, productivity levels, and overall work satisfaction. These conversations shouldn't shy away from difficult feedback, even as they remain constructive and forward-facing.
Check-ins cover many topics, including employee satisfaction, professional development, and expectations. Managers can offer better feedback on employee performance and career aspirations as they build rapport and trust with employees.
The importance of continuous feedback
Continuous feedback can help your organization understand what's happening with your workforce in real time. Managers benefit from a greater connection with their reports, and employees can get quick feedback on what they're doing well and what they can improve, rather than waiting up to a year to find out after the fact. In fact, employees are hungry for feedback to improve their performance.
This ongoing process can improve communication, understanding of job duties and goals, employee performance, and employee satisfaction. These gains can help organizations achieve ambitious goals while improving engagement and retention.
Continuous feedback can strengthen your organization in three critical ways.
Boost engagement and employee retention
Continuous feedback can build and reinforce stronger relationships between managers and employees, which helps organizations prevent unnecessary turnover and all the costs associated with hiring.
Employees who have good managers are more likely to be engaged and more likely to stay. Gallup research shows that managers are responsible for 70% of the variance in team engagement. Managers are the most critical factor in determining whether employees feel heard and supported.
When employees feel supported by their manager, their engagement and loyalty to the organization are likely to be high. When managers help employees create a professional development plan, employees will recognize that the company is investing in their future. Meanwhile, an employee starting a new role could struggle and wash out without the right support. But that same person who receives ongoing, continuous feedback can excel because they feel supported and can learn and grow.
Provide real-time insights
Continuous feedback means nobody has to wait until an annual review to offer negative feedback or to ask an important question. Regular one-on-one check-ins facilitate continuous feedback and allow employees to act immediately on the guidance. Employees can also bring up roadblocks or other problems where they need their manager's assistance.
This approach keeps small mistakes from compounding. Real-time feedback can also reduce recency bias, or the tendency of a manager to focus only on an employee's most recent positive or negative job performance. When managers have frequent check-ins, they develop a more well-rounded sense of employees as workers and individuals.
The data generated from these conversations and the associated goals can also help HR leaders see how the enterprise is performing and where gaps exist.
Accelerate employee
development
Continuous feedback means that employees regularly receive input on what they are doing well, what they could improve, and what opportunities await them. These employees are comfortable asking managers for help or new opportunities, such as stretch assignments.
For example, if a salesperson has problems getting a promising prospect to return calls and emails, they can use their next check-in with their manager to ask how to approach such opportunities.
HR leaders can use these insights to map learning and development paths that help these employees grow while meeting critical business needs, including missing skills the organization will need in the coming years.
What is a continuous feedback loop?
Continuous feedback is vital for the manager-employee relationship, but entire organizations can also benefit from employee feedback, particularly when they create a continuous feedback loop.
A continuous feedback loop is an ongoing process in which employees provide feedback to the organization's leadership, which takes that feedback under advisement and acts accordingly. Over time, this process becomes ingrained as continuous improvement of the employee experience.
Continuous feedback loops start with employees. The organization gathers their feedback via surveys, emails, suggestion boxes, or other methods. Managers or department leaders analyze that feedback for ways to improve pressing organizational issues. These might include employee engagement or customer satisfaction, for example. Company leaders use analysis of the feedback data to make decisions that affect policy, resource allocation, culture, and other areas. HR leaders and mid-level managers would typically carry out the implementation of those decisions.
For example, numerous employees ask the company to consider providing additional PTO to help the workforce relax and refresh. Managers discuss and send the idea to company leadership, recommending consideration because the request will increase employee satisfaction at a time when company surveys indicate an increased level of exhaustion and discontent. Company leadership decides to provide employees with a paid extra day off every month. Employees appreciate that their feedback was acknowledged and addressed in a meaningful way.
Those employees are more willing to continue providing feedback because leadership listened to them and answered, creating a positive feedback loop. The company benefits from higher satisfaction and improved trust.
5 tips for using continuous feedback loops
Continuous feedback loops won't instantly fix widespread communication problems or lack of alignment, but they offer organizations a structured path to improving communication and building trust. Consider these five tips to use feedback loops in your organization.
Focus on more than just the data
Continuous feedback loops aim to improve employee engagement and outcomes, and they can generate large amounts of data to help you analyze progress. But not all data is equal. Scrutinize what information you want to collect and what it means in a human context.
For example, your continuous feedback loop includes a monthly employee pulse survey. The responses generate data, but how do you determine that data's value? Low participation numbers might indicate low levels of trust, and vague questions might not give you answers that provide a clear direction. HR can work with managers to build better relationships with their reports and solicit more meaningful feedback.
Host weekly feedback sessions
A popular way to start continuous feedback loops is by establishing a weekly round of team feedback.
These manager-facilitated sessions should include employee discussion of successes, kudos, roadblocks, or other issues. Communication is a two-way street, so managers should offer constructive feedback at these sessions when appropriate.
These weekly sessions should be focused and give everyone a chance to contribute. While feedback sessions should allow for candid conversation and learning, everyone should be respectful and follow the agreed-upon guidelines.
Develop a feedback review process
A regular feedback review process helps your leadership team decide what feedback receives priority. Many organizations use performance management platforms or other software to sort, categorize, and prioritize employee feedback. This prioritization should be governed by specific criteria, such as whether the input aligns with company goals or whether it's an issue raised by many employees.
For example, your monthly survey discusses mental health policies at your organization. The question "In your opinion, is the current work environment psychologically and physically safe?" might be considered a higher priority question than "If the company launches a new wellness program, would you participate?" A performance management platform could flag employee responses to the first question as a priority for your organization.
Create a continuous improvement board
Continuous improvement boards can be physical, such as a bulletin board in the office, or virtual, like a Slack channel or intranet forum. Regardless of format, HR leaders can encourage these discussions and empower managers to suggest topics for discussion, including ideas for continuous improvement. Employees then provide thoughts and suggestions within a scheduled time frame.
Employees vote on their favorite ideas at the end of the comment period. Company leadership can consider and choose whether to act on the most popular or most business-critical ideas. Make sure employees understand how their ideas will be received (anonymously or not, for example) and what the company chooses to do with those ideas.
Continuous improvement boards give employees a voice, are interactive, and can even be fun for some people.
Take action on what you learn
Employees want to have their voices heard, but they also want to see whether action is taken. You don't need to implement every suggestion or respond to every comment, but you should be transparent about the process.
Organizational leaders are responsible for keeping up with the discussion and explaining to employees what they'll be changing, what they won't, and why.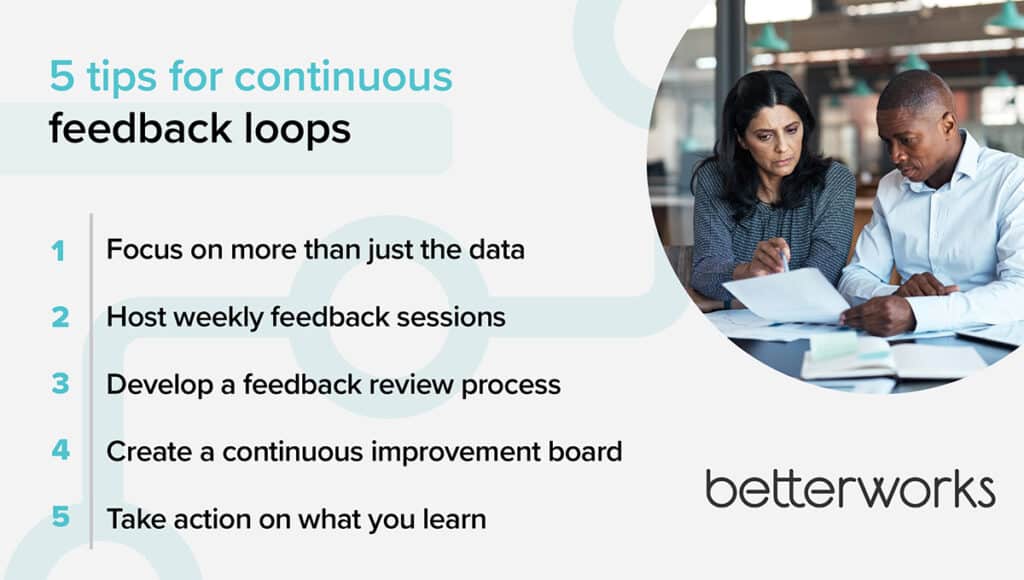 Implementing continuous feedback in your organization
Implementing continuous feedback and continuous feedback loops in your organization takes time, but it can deliver tremendous cultural and performance benefits. Here's how to get started.
Involve everyone in the process early on
A successful feedback system is rooted in the organization's mission and values. That's why it's essential to receive buy-in from everyone — executives, managers, and employees. Top-level buy-in empowers HR to implement structured systems and to support managers with learning and implementing continuous feedback practices with their direct reports. This coordination is essential if your organization is new to regular check-ins or goal-setting.
Establishing continuous feedback loops can be more difficult because of the higher level of commitment. Securing buy-in helps everyone realize the initiative's business importance. Be clear about the role everyone plays in this process. Employees supply the initial feedback, for example, while HR leaders might analyze that feedback and pass along recommendations to the organization's leadership team, which will make final decisions. When employees see that their feedback is respected and drives action by organizational leadership, they'll be motivated to continue offering feedback.
Make your goals simple and clear
Change can be scary. Managers may dislike giving negative feedback or have misconceptions about feedback that prevent them from engaging in it. And regular check-ins might be daunting if managers or employees haven't done this before.
Creating simple, clear goals can improve the process of implementing continuous feedback. Document everyone's goals and make them visible to everyone. For example, an agenda for regular check-ins can help managers and employees feel more prepared and comfortable.
Managers can make the continuous feedback loop process more manageable by identifying the areas within the company that need the most improvement. One way to facilitate this is to ask employees what they already like about the company and where there is room for change or modification.
For continuous feedback to succeed, employees must believe their input will be taken seriously and used to improve the company. HR can help managers and employees align on continuous feedback's importance to company, team and personal goals.
Start a pilot program
Large organizations might not be ready to commit to a widespread continuous feedback program; this is where a pilot program can help. Testing your continuous feedback approach can help win high-level buy-in, uncover early problems, and determine how your culture affects feedback.
Review the pilot and make adjustments before implementing continuous feedback across the organization. As you widen the rollout, encourage pilot participants to be ambassadors for a continuous feedback culture.
Continuous feedback keeps evolving
Continuous feedback is an ongoing process that helps improve manager-employee relationships while increasing engagement, productivity, and retention. Implementing continuous feedback loops can give employees a more prominent voice in the organization's decision-making process and show them how their feedback can lead to positive changes. The result is that managers and employees have better relationships, communication, and alignment.
Continuous feedback is also a learning opportunity for the organization. Use employee feedback to reexamine company practices and policies. When you see something is working, look to expand its effects. When feedback suggests something isn't working, make adjustments. Help your managers and employees recognize the value of continuous feedback in propelling your culture forward and driving better business outcomes.
Want more insight into feedback and how it can help your organization? Learn how to provide productive and effective feedback in the workplace.