Betterworks + SuccessFactors
Fuel unlimited potential and continuous performance enablement with Betterworks and SuccessFactors — better together.
Ignite performance and employee engagement with Betterworks + SuccessFactors
With SAP SuccessFactors as your primary HRIS system to manage employee life-cycle functions, it's time to ensure that HR leaders, employees, and people managers getting high-quality performance enablement that moves the needle for employees and teams. Does SuccessFactors enhance performance and demonstrate program impact? Does it support strategic decision-making?
Unfortunately, the answer is often "no" for our customers using an all-in-one HRIS for performance management. That is why they choose to incorporate Betterworks alongside their HRIS systems.
Discover how Betterworks and its integration with SuccessFactors can make work better together.
Flexibility for the Modern Enterprise
With Betterworks, performance activities happen continually and remain top of mind for employees, including goal-setting, career conversations, employee development, feedback, and syncing learning with goals. Templates and guides promote manager effectiveness
Everything is interconnected and accomplished in the "flow of work." This transforms performance management into an easy-to-use and powerful way to respond to change, course correct when needed, and support the business as it executes on the most important strategies.
Strategic Insights for People ROI
Many HR departments need help to become truly data-driven, but are handcuffed by HCM systems that only provide basic operational people data and reports.
Betterworks empowers HR with built-in strategic people and performance analytics. These advanced tools reveal hidden patterns and correlations, giving HR leaders new insights into factors that can hamper or drive success. Make confident, data-drive decisions that unleash the full potential of your workforce and deliver better business outcomes.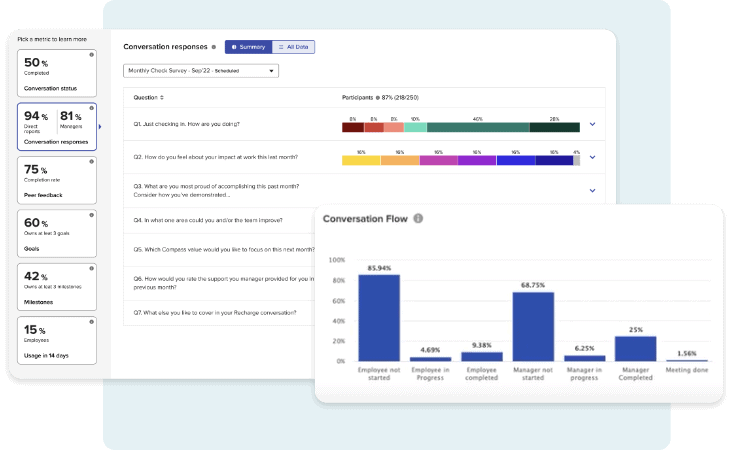 Better Together:
Betterworks + SuccessFactors
Integrate Betterworks with SuccessFactors to effortlessly import SuccessFactors data, automating employee provisioning with customizable fields. Share continuous performance insights from Betterworks to enrich HR processes in SuccessFactors, including onboarding, compensation, and workforce planning. Experience the best of both worlds for a truly successful HCM transformation journey.
Ready to Unlock Your Team's True Potential?