Employee expectations are a crucial element of the employee-manager relationship. They represent a shared understanding of what's expected from employees regarding values, policies, and behaviors while clarifying how each person's work contributes to the organization's overall goals and reputation.
Managers play a critical role in ensuring that employees understand those expectations and know how to put them into action at work.
Let's explore why employee expectations matter and how HR leaders can help managers better communicate them to everyone on the team.
What are employee expectations?
Employee expectations are the guidelines and rules that workers follow as a condition of their employment. Expectations include how employees go about their job duties and what they are responsible for, including projected goals, productivity, and achievement. Expectations are also tailored to the employee's title and job description.
No two workplaces are alike, and employer expectations regarding culture and performance are not universal. For example, some employers follow very strict project deadlines, and missing one could result in being let go. In other job settings, deadlines are targets rather than strict requirements.
Communicating employee expectations in today's workplace
Managers are responsible for setting and maintaining employee expectations from the employee's first day on the job. This includes ensuring that employees know what their role entails, how they should accomplish those requirements, and what policies and cultural norms they should follow. Managers often set and measure progress against expectations through the goal-setting process.
Frequent one-on-one check-ins are one of the best ways for managers to set expectations with employees, check on progress, and offer coaching to keep them on track.
3 benefits of setting clear expectations
While the benefits of setting expectations for employees are extensive, three key ones are improved employee engagement, increased productivity, and reductions in unnecessary conflict.
Improved employee engagement
Employee engagement measures the dedication and emotional connection workers have to their jobs. Employees are productive and satisfied with their job when they are engaged at work. And when employee engagement improves, company outcomes are more easily achieved.
Recent Gallup research finds that only 32% of U.S. employees are actively engaged in their work. While reasons for disengagement can be wide ranging, employees who don't understand what is expected of them can lose motivation and a sense of purpose. And, workplace expectations are especially unclear among younger remote and hybrid workers, with less than 40% understanding what is expected of them at work.
Gallup employee engagement research confirms that clear employee expectations and employee engagement are positively correlated. However, employees consistently report that their employers or managers rarely deliver, leaving workers confused about what is expected of them.
To increase employee engagement, managers must master discussing their expectations for each employee and explaining how the employee's work contributes to the success of coworkers and the company in a way that encourages their direct report..
Increased productivity
Setting clear expectations helps employees focus their efforts, giving them clarity about their priorities and enabling them to work efficiently. They are less likely to duplicate activities performed by co-workers or to go off-task. And, when they understand expectations and have the right resources and coaching, they're more likely to get their endeavors right the first time, eliminating the need for rework. All of this leads to increased productivity.
Managers play a key role here by setting clear expectations so that employees understand the objectives and the key results that will demonstrate achievement. Managers can clear up any confusion or uncertainty and ensure employees have the resources they need.
Fewer unnecessary conflicts
While managers often focus on communicating expectations at the individual level, there's also value in communicating them across the team.
Setting clear employee expectations in this way can reduce unnecessary conflicts among co-workers by ensuring that everyone understands the key goal and each one's role in reaching them. This leads to effective collaboration while minimizing miscommunication and duplicate work.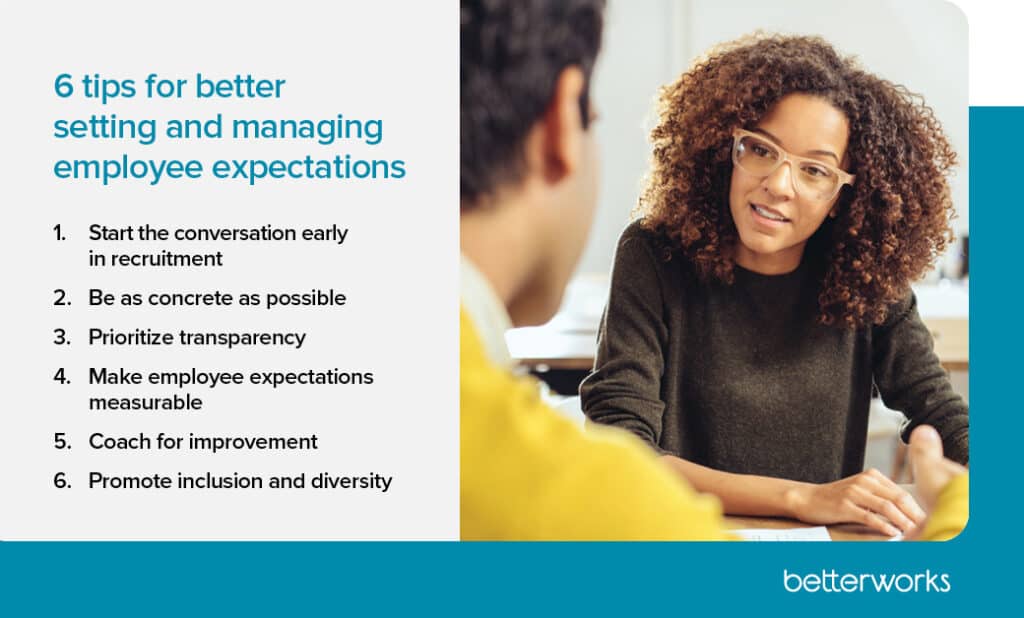 6 tips for setting and managing employee expectations
Start the conversation early in the recruitment process
Setting clear expectations starts before employees begin their first official day of work. Job descriptions should be clear about responsibilities, required skills, and expected outcomes. That clarity should continue through the assessment and interviewing processes so that candidates understand what they'd be getting into — and can opt out if it's not a match.
Use interviews to reiterate the expectations of the role while giving space for applicants to ask questions. Illustrate the job by describing previous projects or a typical day for an employee in that position.
Be as concrete as possible
At every stage of the employee life cycle, workers benefit from expectations that are specific and in plain language. One way to do this is through clearly written company policies, such as ethical rules, what expenses can be reimbursed, and how to elevate personnel issues to a manager or HR.
During onboarding, managers can deliver hands-on walkthroughs of tasks and direct employees to official internal guides and documentation.
This clarity continues after onboarding through one-on-one check-ins and coaching conversations. For example, if an employee is supporting a sales and marketing campaign for a new product, the manager might use a check-in conversation to discuss the specific targets and metrics tied to the project and the employee's tasks.
Even when a manager can't cite specific data, they can still provide clarity. For example, if the employee has a nuanced question about handling a common sales challenge, the manager might not have numbers to share, but could discuss how the employee might think through the problem, what tools to use, and what approaches have succeeded in the past.
Prioritize transparency
Transparency is an essential component of setting and managing employee expectations. Transparency empowers everyone at all levels of the business to ask questions, take prudent risks, and think more strategically by giving them a sense of how everyone's efforts contribute to the greater mission.
In organizations where expectations are clear and transparent, it's easy to see when performance slips and a performance improvement plan (PIP) is needed. Here, transparency continues to count: Managers should clarify that PIPs are an investment in workers who need additional guidance.
Make employee expectations measurable
How can managers and organizations define success? Through formalized goal setting, starting with high-level company goals that cascade down throughout the organization. Effective goal-setting should also take place from the bottom-up by individuals and teams who know best how to align their efforts to strategic business goals. In addition, employees should be encouraged to set their own development goals.
Managers have a responsibility to set and communicate their goals and make sure that their employees' goals align with the team's goals, thereby giving the employee a way to measure progress. This helps employees see where they stand and what they need to improve to hit their targets. It also gives them an understanding of how their work is tied to their team and even to other groups across the company. When goals aren't measurable, employees are unsure about what's expected or how they can get better, which causes frustration and even disillusionment.
One way to set clear expectations is by setting objectives and key results (OKRs). OKRs can be time-based (quarterly, for example) or project-based. Employee OKRs align with higher-level objectives at the team level and all the way up to the highest level of the organization. While key metrics can be measured in many ways, the employee and manager should each be able to clearly note progress against objectives — and quickly make adjustments if there is insufficient progress.
Coach for improvement
According to the Betterworks 2022 State of Performance Enablement report, two-thirds of employees said they don't get one-on-one check-ins with a direct manager for coaching and feedback more than twice a year, and 10% said they rarely or never receive such input.
Conversations in the flow of work can be particularly helpful for employees to get immediate evaluation of their work and make changes as needed. Managers should also schedule regular check-ins to coach employees on areas for improvement as well as discuss the employee's development and growth aspirations.
Employees appreciate coaching around performance, in no small part because they can fix things that aren't working instead of being surprised months later during a performance review. In addition, spending time to regularly discuss professional growth goals shows that the manager cares about their direct reports' career growth.
Promote inclusion and diversity
Diversity, equity, and inclusion (DEI) is key to creating a welcoming company culture for everyone.
In recent years, many organizations have publicly embraced a commitment to DEI, but there's less evidence that this commitment has received follow-through. A 2021 survey by JUST Capital found that while large majorities of employers and workers agreed that their organization had committed to advancing DEI in the workplace, there was less agreement on tangible progress. Nearly 70% of employers felt a formal DEI program with clearly defined goals existed, but only 49% of workers agreed. Meanwhile, 25% of workers were "not sure" how much progress had been achieved.
One way to fulfill your commitment to DEI is by controlling for bias in your performance review process through regular calibration. The data collected from ongoing manager-employee conversations about goal achievement can be used in calibration to ensure that talent decisions, such as promotions, are fair and based on achievement.
4 Examples of employee performance expectations
Setting clear employee expectations can take many forms, and it's important to tailor your approach to the specific roles in your organization.
Decision-making
The level of decision-making ability your employees have is determined by their job role, skills, and experience. Managers must communicate this expectation to employees to ensure everyone follows protocols and chains of command. Having clarity empowers workers to make decisions about the responsibilities they own and when it's time to find a manager.
Adaptability
No plan is foolproof. A mistake or an emergency can change priorities instantly. Expectations of employees should be flexible to adapt to change, disruption, or emergency scenarios.
For example, the COVID-19 pandemic was a case study in organizational adaptability for many companies. While there was a great deal of uncertainty as businesses quickly transferred from in-office to remote workforce solutions, organizations expected their employees to adapt within the bounds of their core mission, vision, and values, while still making room for employees to adjust their goals, workloads, and ways of working.
Reliability
Managers expect employees to be reliable, including working during timeframes that align with the company's core hours of operation geographically. If a manager can't rely on an employee to be available during business hours, they cannot accurately assign projects or make realistic schedules. Managers must make it clear how an employee contributes to the team, and that the team relies on that employee to fulfill their work responsibilities each day, barring excused absences, emergencies, or other circumstances.
Productivity
Managers want employees to do more than just be present. Productivity is an essential part of employee expectations and goal-setting. Managers set expectations about the amount and quality of work an employee is expected to complete depending on their skills and experience level. Productivity should be discussed during one-on-one meetings and measured based on workloads, skills development, and company priorities.
Set up your employees for success
Setting clear employee expectations for individuals and teams is an ongoing process. By tying employee expectations to continuous performance management initiatives, you set up your organization for success with better employee engagement, alignment, and productivity.
Learn how goals and conversions empower employee performance.